About the Fair
Entrepreneurship and Innovation Education Unit of Library (EIEU) will organize "2023 Student Fair - EdUHK Lunar New Year Fair" at PMQ, Central on 14 & 15 January 2023 (Saturday & Sunday). Details are as follows.
| | |
| --- | --- |
| Date: | 14 & 15 January 2023 (Saturday & Sunday, 23rd and 24th of the 12th month in lunar calendar) |
| Time: | 11:00 am to 8:00 pm |
| Venue: | Marketplace, G/F, PMQ, Central View location |
There will be more than 40 stalls run by EdUHK students, alumni, as well as students and teachers of five schools. Among the array of items on offer are ceramic products, DIY ornaments, tie-dye items, handmade jewellery, eco-friendly products, coffee-related items, and handcrafts designed exclusively by people with special education needs. A booth will also be set up in the Student Fair on "Chinese Calligraphy Demonstration on Fai Chun". Mr Tang Siu Hung, retired primary school principal and Vice President of Hong Kong Calligraphers' Association, has been invited by the Centre for Chinese Classical Education, EdUHK, to demonstrate Chinese calligraphy on Fai Chun from 12:00 noon to 3:00pm on 14 January 2023.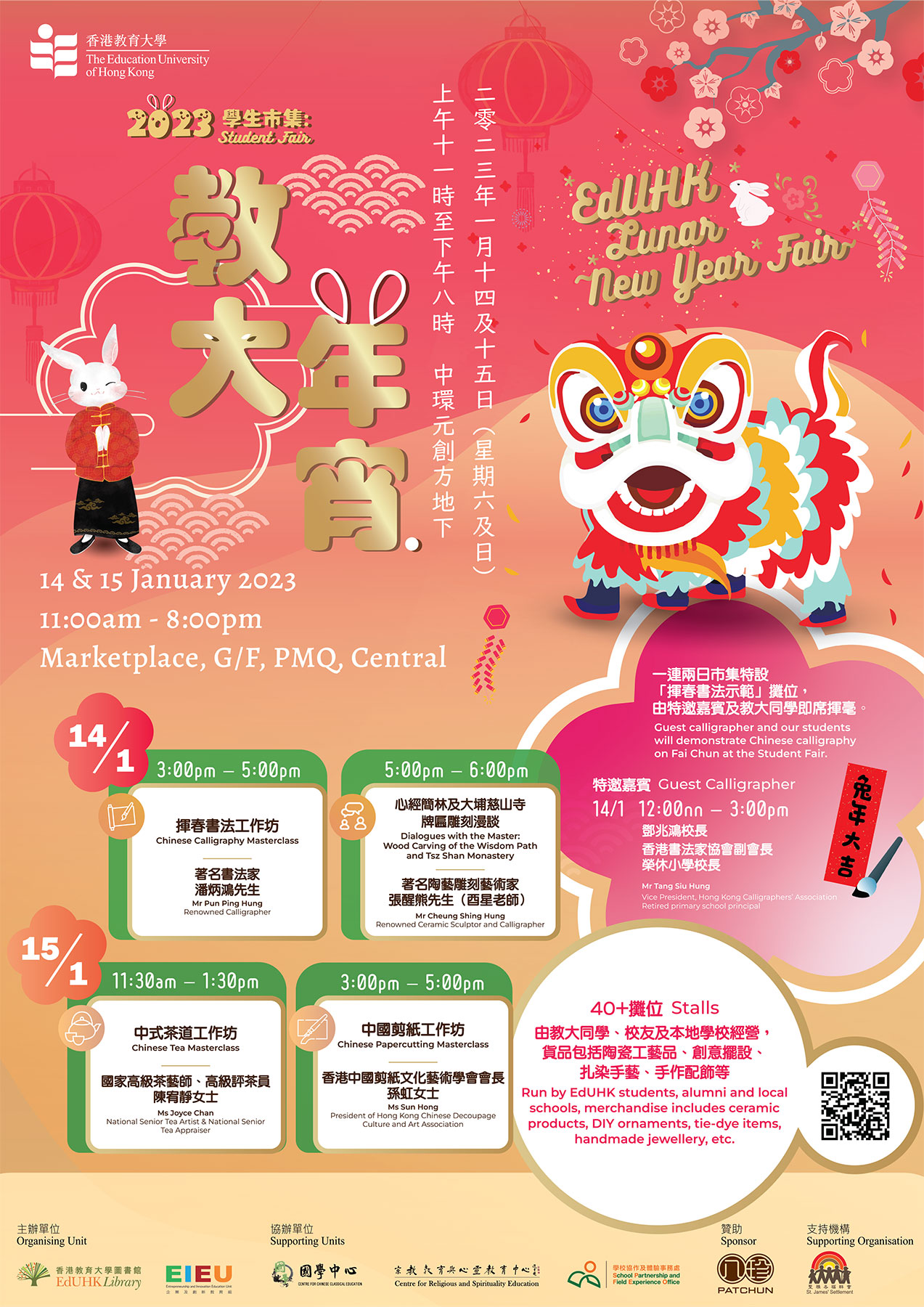 Besides, we have invited renowned Chinese art masters to conduct workshops and talk at the Student Fair. Details are as follows.
Date, Time & Format
Theme
Guest
Language

14 Jan 2023

3:00 pm – 5:00 pm

Workshop

Chinese Calligraphy Masterclass: Fai Chun Writing

Renowned Calligrapher

Cantonese

14 Jan 2023

5:00 pm – 6:00 pm

Talk

Dialogue with the Master: Wood Carving of the Wisdom Path and Tsz Shan Monastery

Renowned Ceramic Sculptor and Calligrapher

Cantonese

15 Jan 2023

11:30 am – 1:30 pm

Workshop

Chinese Tea Masterclass: Demonstration and Introduction of Chinese New Year's Tea Traditions

National Senior Tea Artist & National Senior Tea Appraiser

Cantonese

15 Jan 2023

3:00 pm – 5:00 pm

Workshop

Chinese Papercutting Masterclass

President of Hong Kong Chinese Decoupage Culture and Art Association

Cantonese
During the Student Fair, EdUHK student participants will compete for the following awards. Please come and support them with your votes!
The Most Popular Stall
The Best Stall Design
Our participants will fulfill corporate social responsibility by donating 10% of their business total net profit to a selected charitable organisation. Please grab the chance to support our participants and our society. We have also prepared a lot of privileges and giveaways for you. Please don't miss the limited offer!
Stalls
Floorplan
Stall Descriptions
Awards
Award
Awardee(s)
Prize

The Best Business Plan

Tam Oi Ling

Booth No.: 25

Booth Name: Author.

Certificate of Award
$2,000 book coupon

The Best Stall Design

LAM TSZ YEUNG

YU WAI KI

CHAU HIU LAM

WONG PAK HIN

KWAN HARVEY HO FAI

LEE TSUN KIU

CHUI, HIU KWAN CHRISTY

Booth No.: 36

Booth Name: 大笪地

Certificate of Award
$2,000 book coupon

The Most Popular Stall

LAM TSZ YEUNG

YU WAI KI

CHAU HIU LAM

WONG PAK HIN

KWAN HARVEY HO FAI

LEE TSUN KIU

CHUI, HIU KWAN CHRISTY

Booth No.: 36

Booth Name: 大笪地

Certificate of Award
$2,000 book coupon

The Best Product Design

陌生人的故事信件

Chiu Wai Lam, Victoria

Booth No.: 21

Booth Name: art.potato_studio

Certificate of Award
$2,000 book coupon

Choice of EdU Community Award

Ng Yuen Yu, Evelyn

Booth No.: 14

Booth Name: Cherish Treasure

Certificate of Award
$2,000 book coupon
Workshops
Date
Workshop

4 Nov 2022 (Fri)

2:30pm – 3:00pm

Briefing for 2023 Student Fair

Video recording (EdUHK students only)

22 Nov 2022 (Tue)

3:00pm – 4:00pm

Briefing and Training on Business Plan Writing and Financial Management of Running a Stall

03 Jan 2023 (Tue)

3:30pm – 4:30pm

Briefing Session for stall participants